Hazmat Physicals in Las Cruces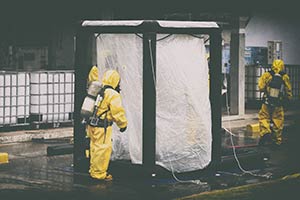 If you work with hazardous materials, you understand just how dangerous it can be. You know you have to follow OSHA and company guidelines to stay safe at all times. You also probably know that to ensure you are healthy and haven't been exposed to any of the hazardous materials you have at your job, you need to undergo routine hazmat physicals, which we offer at WorkMed Occupational Health.
If you're sent to our office to complete your physical, we'll have you in and out in a timely matter and ensure that you receive the best service available.
What Are Hazmat Physicals?
Hazmat physicals are given to individuals who work with hazardous materials. They are designed to check for possible hazardous exposure. During a hazmat physical, you will undergo a series of tests and evaluations to ensure you are healthy and have not been exposed to any of the potentially toxic materials you work with regularly.
What to Expect
During the physical, you can expect to:
Undergo a physical exam similar to the ones you receive from your general doctor during a checkup
Complete an auditory test
Receive a spirometry test to evaluate your lung function
Get chest X-rays if indicated or if it's your first physical
Give urine and blood samples, both of which can indicate if you have been exposed to toxic materials
You may also receive other tests depending on the industry you're in and the different materials you handle.
Contact WorkMed Occupational Health in Las Cruces
At our medical clinic, we make it our goal to perform thorough physicals and get you back to work quickly. Give us a call today if you have questions about your upcoming physical.