Work Physicals at WorkMed Occupational Health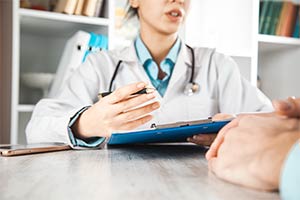 For many jobs out there, you must undergo physicals before and during your employment there. These physicals are designed to keep you safe and healthy during and after your employment there. Most companies have clinics in their circles that they will send you to receive your physicals. WorkMed Occupational Health in Las Cruces offers physicals and swift, efficient service so you can get to work in no time.
Pre-Employment/Post-Offer Physicals
Many companies require you to receive a physical before you can begin employment with them. These are known as pre-employment/post-offer physicals. These physicals will search for everything from drug use to impairments that may get in the way of you completing your job successfully. We tailor these physicals to the needs presented in the job description. So before the physical, we'll have you send over the job description and we'll cater the physical to that. A few of the areas of pre-employment physicals we do include:
DOT Testing– DOT Testing is required if you plan to become a commercial driver. DOT testing looks for health issues or complications such as vision impairments, hypertension, and diabetes.
Drug and Alcohol Testing– Many companies, regardless of the industry, will require you to receive drug and alcohol testing.
Fitness for Duty Evaluations– This will examine if you're healthy and fit enough to perform certain jobs.
Urinalysis and Blood Work– These tests are important because they screen for potential health factors such as unknown diseases that may prevent you from doing a job.
Why Are Physicals Are Necessary?
Physicals are necessary because they make sure you are staying safe and healthy during your employment. They also help employers find the best employees for the job by ensuring their future employees are fit to handle their duties.
Contact Us Today
Feel free to contact us today with any questions you may have or to schedule an appointment. We accept walk-ins as well. Call today!